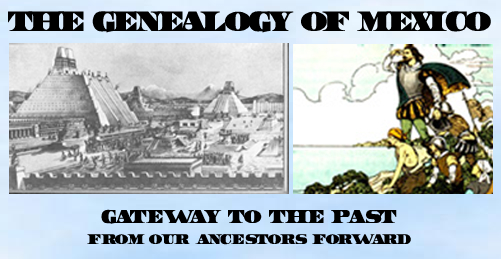 The following is a list of names found on public documents in Northeastern Mexico before 1724.
Early Entrants into Northeastern New Spain (S-U)
| | | | |
| --- | --- | --- | --- |
| NAME | MEANING | AREA of ORIGIN | DATE of FIRST MENTION |
| Saenz | Son of Sancho | All Spain | 1648 |
| Salas | Large living room (German) | Mallorca, Catalonia | 1671 |
| Salazar | Palace | Basque, Northern Spain | 1613 |
| Salcedo | Thicket of willows | Central Spain | 1664 |
| Saldana | Balance in accounting | Valencia | 1646 |
| Saldivar | | Basque | 1630 |
| Saldua | | Basque | |
| Salinas | Salt lick | Navarre | 1635 |
| Sanchez | Son of Sancho | All Spain | 1611 |
| Sanmiguel | St. Michael | French and Spanish Navarre | 1689 |
| Santiago | St. James | Galicia and Northern Spain | 1648 |
| Santos | Saintly | All Spain | 1628 |
| Santos-Coy | Saintly hammock | Castile | 1623 |
| Saucedo | Willow thicket | All Spain | 1691 |
| Saustegui | | Basque | |
| Sayas | Skirt | Aragon | |
| Seguin | Follower or to follow | Catalonia, Valencia | |
| Sepulveda | Valley in Segovia | Castile | 1626 |
| Serna | Arable land | Valencia, Leon, and Galicia | 1633 |
| Serra | Sawtooth mountains | Italy, Leon, and Central Spain | |
| Serrano | Ridge of mountains | Central Spain | 1629 |
| Sierra | Sawtooth mountains | All Spain | 1682 |
| Sifuentes | | | 1683 |
| Sigarro | Linnet (jilguero probably) | Galicia (probably) | |
| Siller | | Castile | 1693 |
| Silva | Woodlands | Portugal, Galicia | 1629 |
| Simancas | Deep and dark caverns | Castile | |
| Solano | A balcony | Santander and central Spain | 1699 |
| Solis | Place name | Asturias and Avila (Andalusia?) | 1596 |
| Sosa | Marine plant (alkali source) | Portugal and Castile | 1580 |
| Sotelo | | Galicia | 1661 |
| Soto | Small land holding; its owner | North Central Spain | 1655 |
| Suarez | Blood, family line (German) | Asturias | 1648 |
| Sustaita | | Basque | |
| Tagle | | Castile, Santander | 1685 |
| Tamez | Son of Thomas | All Spain | 1682 |
| Tanguma | | | 1636 |
| Taranco | Santander mountains | Santander, Castile | |
| Tenorio | | Galicia | |
| Tirado | Thrown away | Murcia | |
| Tirieso | | | |
| Torres | Towers | All Spain | 1638 |
| Tovar | Porous stone | Burgos | 1642 |
| Trejo | Billiard player (probably) | Estremadura | 1640 |
| Trevino | Italian Tremino (?) | Burgos | 1603 |
| Urdiales | | Basque | 1690 |
| Urdinola | | Basque | |
| Uria | Village or town | Basque | 1645 |
| Urquiza | | Basque | |
| Urrutia | Arroyo or far waterhole | Basque | |
| Ursua | | Basque | |
| Urtusautegui | | Basque | |
| Uzcanga | | Basque | |

* Source of the above info.:  Duaine, Carl Laurence. "With All Arms A Study of a Kindred Group" Edinburg, Texas: 
New Santander Press, 1987.


Family Histories (a work in progress)

Salas - the first Salas to the New World was Pedro de Salas from Lisbon Portugal. He 
came with Colon (Columbus) in his 2nd voyage in 1494. 
In 1537 two brothers arrived in Mexico from Sama, Asturias. They were Diego and 
Sebastian Salas. Parents: Francisco Nicolas and Marina Gadea.
Gonzalo de Salas came to Mexico in 1538 from Santo Domingo de la Calzada, Logrono 
Spain. He was a Hidalgo (minor member of nobility). Parents: Sancho de Salas and 
Francisca Fernandez.  
Salas Family Genealogy Forum
The Salas Surname Message Board

Salazar - there were 2 Salazars from Madrid that came in with Cortes and Narvaez 
(not listed in the Cortes pages) one was Rodrigo who came to Mexico with Cortes 
and the other was Francisco who came to Mexico with Narvaez. Rodrigo participated 
in Cortes' expedition to Honduras. (will add to Cortes pages later)
There were 2 Salazar's that arrived in Mexico from Toledo in 1539. One was Alonso 
de Salazar. Parents: Alonso Fernandez de Tovar and Francisca Fernandez.
The other, Antonio de Salazar. Parents: Antonio de Salazar and Ana de los Angeles.
Salazar Family Genealogy Forum
The Salazar Surname Message Board

Salcedo - an early arrival to Mexico from Seville was Francisco Salcedo who arrived
in 1536. Parents: Alonso Fernandez Lobo and Ana Martin de Salcedo.
Salcedo Family Genealogy Forum
The Salcedo Surname Message Board

Saldana - Gregorio de Saldana arrived in Mexico from Saldana, Palencia in 1527/8. 
Settled in Mexico City. 
Saldana Family Genealogy Forum
The Saldana Surname Message Board

Saldua - Domingo Saldua came to the area of Panuco Mexico with Nuno de Guzman in 
1526. He was from Hernani, Guipuzcoa. Father: Juan de Saldua.  

Salinas - Andres de Salines from Burgos settled in Mexico City in 1538.
Juan de Salinas from Salinas de Anana, Alava arrived in Mexico in 1539. Parents:
Lucas de Salinas and Catalina Villa (?).
Salinas Family Genealogy Forum
The Salinas Surname Message Board
 
Sanmiguel - Baltasar San Miguel arrived in Mexico from Valladolid in 1536. He was 
on Mexican records in Oaxaca in 1547. Parents: Fernando San Miguel and Catalina 
Velasquez.
The Sanmiguel Surname Message Board

Santiago - Alonso de Santiago arrived in Mexico from Sevilla circa 1522. He was 
a resident of Mexico City in 1547 and had married the daughter of a Conquistador.
Parents: Andres de Santiago and Isabel Gutierrez de Pareja. 
Another early settler was Juan de Santiago who arrived in 1536 from Talaveruela, 
Caceres. Participated in the pacification of Nueva Galicia in 1541 and was a 
resident of Guadalajara in 1547. Married the daughter of the Conquistador Juan 
de Alaejos who was a resident of Guadalajara since 1530. Parents: Franciso Martin 
(el Gordo) and Teresa Sanchez.
Santiago Family Genealogy Forum
The Santiago Surname Message Board

Santos - Juan Santos arrived in Mexico with his brother Pedro Perez in 1539 from
Sobradillo, Salamanca. Parents: Lorenzo Perez and Juana Fernandez.
Santos Family Genealogy Forum
The Santos Surname Message Board

Santos-Coy - Here is the declaration my ancestor Bernardo de los Santos Coy 
made in Cerralvo on the 7th of June 1627. 
"Preguntado que cómo se llama y de donde es natural y cuyo hijo es, qué oficio 
y edad tiene, responde se llama Bernardo de los Santos, y es hijo legitimo de 
Juan de Calis y de doñá Catalina Gómez de Coy, vecinos de la villa de Lepe, en 
el marquesado de Ayamonte, de donde es natural; y está ocupado de presente y 
de tiempo de cuatro años a esta parte, en servicio de Su Majestad; y asiste, 
con orden del señor Gobernador, en el real y minas de San Gregorio, con plaza 
de soldado, ejerciendo la de Sargento, tiempo de dos años por nombramiento del 
señor Agustín de Zavala, Caballero del hábito de Santiago, General de la Galicia 
y siéndolo de este reino, y también por elección del dicho señor Gobernador; y 
es de edad de veinte y cuatro años; y esto responde." 

Saucedo - Alonso Saucedo arrived in Mexico with his parents, Juan de Yepes and 
Leonor de Saucedo in 1527. They were from Valle de Saucedo in Santander. They 
were among the first settlers of Puebla in 1532 and were listed there in 1547.
Saucedo Family Genealogy Forum
The Saucedo Surname Message Board

Sayas - Armas: En Campo de oro, un menguante de gules, y a modo de orla, ocho
aspas, tambien de gules. 
The Sayas Surname Message Board

Sepulveda - in addition to the conquistadors already mentioned there was a Pedro
de Sepulveda who arrived from Madrid in 1536. Parents: Juan Sanchez de Sepulveda 
and Maria de Sepulveda.  
Sepulveda Family Genealogy Forum
The Sepulveda Surname Message Board

Serna - The Index of Serna's of Northern Mexico by Robert Suarez.
Serna Family Genealogy Forum
The Serna Surname Message Board

Serra - Armas: En campo de gules, una sierra de oro. Otros traen escudo partido: 
1, en campo de oro, tres montes pardos, el del centro mas alto que los otros 
dos y superado de una sierra de zur, y 2, en campo de plata un pino de sinople
y un lobo de sable, empinado al tronco, en punta, ondas de agua de azur y plata.
Serra Family Genealogy Forum
The Serra Surname Message Board

Serrano - an early arrival to Mexico was Antonio Serrano de Cordoba from Cordoba. 
He was a resident of Mexico City in 1536. 
Francisco Serrano came to Mexico in 1536 from Sevilla. Parents: Juan Serrano and
Ana Fernandez.
Luis Serrano arrived from Cordoba in 1536. Parents: Juan Serrano and Ana Martin.
Serrano Family Genealogy Forum
The Serrano Surname Message Board

Siller - Armas: En campo de plata, un arbol de sinople, y dos lobos de sable 
pasantes, al pie del tronco, en jefe tres estrellas de oro, puestas en faja.
The Siller Surname Message Board

Silva - an early arrival to Mexico from Sevilla in 1530 was Antonio Silva. He 
married the widow of the Conquistador Alvaro Gallego in 1537. Parents: Gonzalo
de Silva and Ana Sanchez Hurtado.
Pedro de Silva arrived with his brother Juan de Campos from Sevilla in 1534.
Father: Antonio de Silva.
Silva Family Genealogy Forum
The Silva Surname Message Board

Simancas - Armas: En campo de gules, un castillo de oro, y siete manos abiertas
de carnacion, puestas en orla.

Solis - Alonso Solis arrived in 1530 from Caceres. He was the nephew of the 
Conquistador Gonzalo Fernandez de Solis also from Caveres who died in the 
conquest of Mexico. A resident of Mexico City with a wife and Hacienda he 
returned to Spain twice bringing back a servant each time. On Mexican 
records in 1562. Parents: Martin de Aguirre and Ines Becerra de Solis.
Two arrivals from Bejijar, Jaen in 1539 were Andres and Cristobal Solis.
Probably father and son. Andres parents were Alonso de Solis and Juana 
Gonzalez. Critobal's parents were Andres de Solis and Juana de Maya.
Solis Family Genealogy Forum
The Solis Surname Message Board

Sosa - besides the Sosas already mention there was Marcos de Sosa from Alcala
de Guadaira, Sevilla who arrived in 1536. Parents: Juan de Sosa and Isabel 
Rodriguez.
The Sosa Surname Message Board

Soto - Francisco de Soto from Toledo arrived in the Indies in 1517. He then 
was a Conquistador of Santo Domingo arriving there with Bartolome de las 
Casas. He was a Conquistador of Panuco, Mexico and a resident of Mexico City
from 1523 to at least 1547. Parents: Agustin Soto and Catalina Gonzalez.  
Soto Family Genealogy Forum
The Soto Surname Message Board

Suarez - Rodrigo Suarez arrived with his mother Teresa Suarez and Grandfather
Francisco de Oliver in 1536 from Badajoz. 
Gaspar Suarez de Avila arrived in Mexico in 1526 with Luis Ponce de Leon. He 
was a Conquistador of the Yucatan and spent 4 years in Honduras. He settled 
in Mexico City. He became a Governor of the Yucatan where he resided with his 
wife Dona Isabel de Cervantes y Lara. Parents: Antonio de Avila and Dona 
Maria Suarez.
Blasco Suarez arrived in Mexico in 1536 from Avila. Parents: Don Gomez de 
Peso and Dona Costanza Suarez.
Cristobal Suarez arrived with his brother Juan de Peralta in 1534 from Avila.
Parents: Alvar Suarez and Luisa Peralta.
Suarez Family Genealogy Forum
The Suarez Surname Message Board

Tirado - Francisco Tirado arrived in Mexico in 1534. He was originally from 
Fuente de Cantos, Badajoz. Parents: Alonso Tirado and Isabel Martin. 
The Tirado Surname Message Board

Tovar - Of the village of Tovar in Burgos. A branch of the family came to 
the Americas. Armas: En campo de azur, una banda de oro engolada en dragantes
de sinople.
Tovar Family Genealogy Forum
The Tovar Surname Message Board

Trejo - Francisco de Trejo of Coria, Caceres was a Conquistador in Santo 
Domingo from 1520 to 1535. He arrived in Mexico in 1535 and participated in 
the pacification of Nueva Galicia under the Viceroy Mendoza in 1541. He 
settled in Guadalajara, Mexico in 1547. Parents: Fernando de Trejo and 
Isabel Gonzalez.
Pedro de Trejo of Plasencia, Caceres arrived in Mexico in 1537 and 
participated in the pacification of Nueva Galicia under the Viceroy Mendoza 
in 1541. He married the widow of the Guzman Conquistador Francisco Barron, 
who was the daughter of the lic. de la Torre. On Mexican records in 1547.
Parents: The Captain Diego de Trejo and Isabel de Contreras. 
There was a Pedro de Trejo also of Plasencia, Caceres who arrived in 1537.
Parents: Pedro de Trejo and Isabel Gutierrez.
Trejo Family Genealogy Forum
The Trejo Surname Message Board

Trevino - There were 2 arrivals to the Yucatan from Ciudad Real, Ciudad Real 
in 1527 possibly father and son. One was Alonso Trevino. Parents: Alonso 
Trevino and Maria Lopez Canizares. 
The other was Lope de Trevino. Parents: Alonso de Trevino and Maria Sanchez.
Most Trevinos able to trace their ancestry back to Spain would find Diego 
Temino de Velasco as their ancestor. He arrived in Guadalajara, Jalisco in 
1543/1544 with his wife Francisca de Alcozer and children Francisca de Velasco,
Baltazar Temino, Diego de Trevino and Maria Banuelos. Each child had at least 
one child that was either a Termino or Trevino. Some stayed in Guadalajara 
others went on to Zacatecas and Northern Mexico. 
Trevino Family Genealogy Forum
The Trevino Surname Message Board

Urdinola - of the valley of Oyarzun (Guipuzcoa). Armas: En campo de plata, un 
losange de azur cargado de un aguila de oro: en cada canton del escudo un 
armino de sable. Bordura de gules con una cadena de oro. 

Uria - of the valley of Orozco in Vizcaya. Armas: En campo de oro, una banda
de tres ordenes  de escaques de gules y plata acompanada de dos veneras de 
gules, una a cada lado.

Urquiza - of Vizcaya. Armas: En campo de plata, un arbol de sinople, acompanada
de un lobo al natural pasante; bordura de azur, con ocho estrellas de plata. 
Urquiza Family Genealogy Forum

Urrutia - Juan Urrutia was in Santo Domingo in 1513 and a resident of Medellin 
New Spain in 1525 were he was involved in mining. He came from Urrutia, 
Vizcaya. He was a resident of Mexico City in 1527/28
Urrutia Family Genealogy Forum
The Urrutia Surname Message Board
 
Ursua - Armas: En campo de oro, tres palomas de sable manchadas de plata y bien 
ordenadas bordura dentellada, de azur.
The Ursua Surname Message Board

Urtusautegui - of the valley of Gordejuela, Vizcaya. Armas: En campo de plata, 
cinco panelas de gules, puestas en sotuer.